How to make a fuel cut-off switch using a push button.
Fuel Cut-off switch or starter cut, led anti-theft device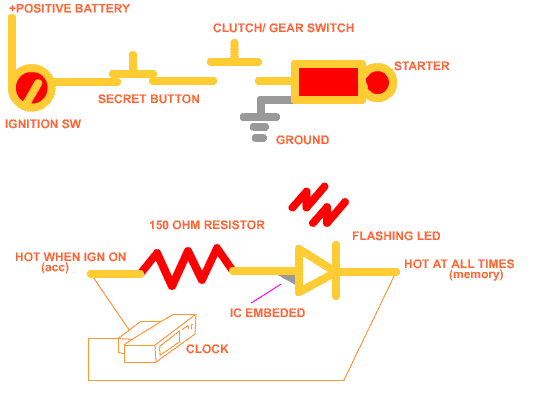 This is a starter cut-off push button. It simply works by allowing the starter to work when a button (rated at 40A or higher) is pushed. A relay will also work in place of the button but that's just one more part to fail. It's that one small chance of failed device that will kick your but.
Be warned that thieves are are know to push start or do some simple things to jump start your car. So there is still a chance your car will end up somewhere stripped.
The second image from the top is a LED flasher. What this will do is simply turn off the LED when you remove the key from the ignition. This is great for those who want the distracting LED off while driving.
Regrettably, the author's elderly family member was carjacked, not without injury. The car uses the kill-switch above which help recover the car. The only mistake here was simply forgetting to lock the doors.
You can read more about theft prevention at http://techauto.te.funpic.org/ignitionswitch.php#theft